HISTORY OF OUR MAYTAG COLLECTION
In 1993 we started our Maytag collection. We didn't know it at that time, but the purchase of our first Maytag twin was the start of a collection that continues to grow to this day. We now own 30 Maytag gas engines of various types. We have tried to collect all of the so called Maytag five. So far to date we have the Maytag upright, Maytag model 82, Maytag model 92, and the Maytag model 72. As you may already know if you are a Maytag collector, the most elusive engine of the five is the Maytag Fruit Jar. This was a Maytag single cylinder two cycle engine that used a Mason canning jar for the fuel tank. We still search and hope to find one to complete our Maytag collection someday. We moved our Maytag engines by hand for a few years, but this became increasingly too much work for the aging backs, so we have now mounted all of our Maytag collection in an enclosed trailer for the public to enjoy at the shows we attend. We have added many items to our Mayag collection such as spark plugs, banners, oil cans, advertising items, books and anything that has the word Maytag attached to it. Some of our Maytag collection will be shown on the pages of this web site and we hope that you will enjoy the pictures and information that we will provide for you to view.
MAYTAG FACTS YOU MAY FIND INTERESTING
In 1893 F.L.Maytag started his first business producing band cutters and self feeders for threshing machines.

In 1895 the Success Husker and Shredder was produced by Maytag.

In 1907 the first Maytag washer was produced.

In 1911 the first electric powered Maytag washer was produced.

1914 was the year for the first gasoline powered Maytag washer.

1919 was the year for the first aluminum tub Maytag washer.

1922 saw the first Maytag Gyrafoam washing principle.

1926 was the year for the new Maytag wringer called the Roller Water Remover.

1931 was the year for the first one piece aluminum tub Maytag washer.

1939 The Maytag Master washer was produced.

1942 was all-out production for the war effort.

1943 was the Fiftieth Anniversary.

In 1893 four ambitious men started what was to be the Maytag Company with a working capital of twenty four hundred dollars and a lot of confidence in the future of America.

Fred L. Maytag 1857-1937

Founder 1893

President until 1921

Director until 1937

Chairman of the Board 1921-1937.



ORIGINAL AD FOR THE MAYTAG ELECTRIC WASHER IN THE 1920'S
This particular washer was a huge time saver for the time. You could also churn butter and grind meat with attachments that were available from Maytag. Check the number 3 PICTURE PAGE to see these attachments. This washer was also available in a gas powered version for those without electricity. The very popular Maytag-Multi Motor powered these washer very nicely.
CLICK HERE TO EMAIL US
MAYTAG FRUIT JAR , MAYTAG WOOD TUB WASHER

If you ever find or know of anyone wanting to trade or sell a Fruit Jar Maytag, Email me and let me know.
We are also searching for a wood tub Maytag washer. If you have any information on one let us know.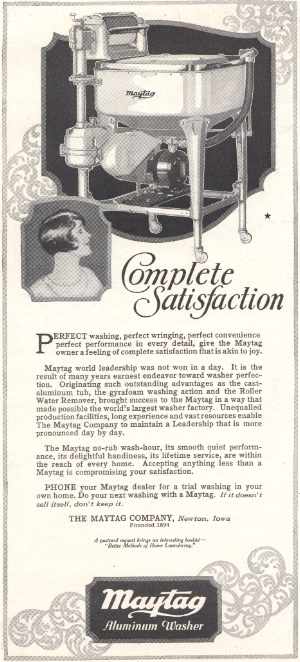 F.L. MAYTAG STATE SENATOR
Mr. Maytag was fully occupied in creating his amazing business, but found time to serve his community and state as a public servant. Mr. Maytag served six years on the Newton city council, and was mayor for two years. In 1901, as a republican, Mr. Maytag was elected State Senator and served five sessions. In 1924 Mr. Maytag was appointed Iowa's first Budget Director by Governor Kendall.